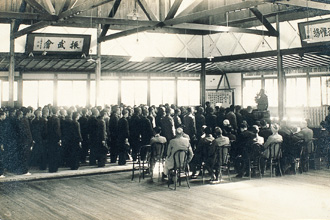 1918〜
Founding of the Kumamoto International Association
Ever since the Meiji restoration in 1868, Kumamoto Prefecture has actively pursued international relations. With this historical background, the Kumamoto International Association was founded in 1918, with the aim of educating capable young men who could play an active role overseas. The roots of KGU lie in this association.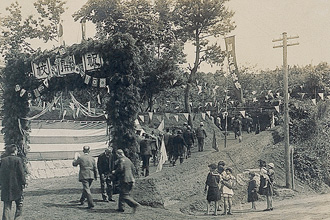 1938〜
Teachers and students built the school with their own hands.
In 1938, one year after the Second Sino-Japanese War broke out, the Kumamoto Prefectural School of Chinese Language was founded by the Kumamoto International Association. Four years later in 1942, the Institute of Oriental Languages was inaugurated. The construction of the school buildings at the foot of Mount Tatsuda began in the middle of the Pacific War and on May 30th 1943 the opening ceremony was held. This day is commemorated today as KGU's foundation day.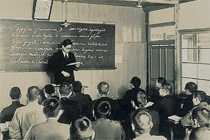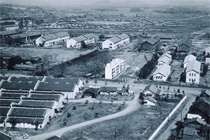 1945〜
Kumamoto University of Commerce, the first University of Commerce in Kumamoto
After World War II ended, in November 1945, the Institute of Oriental Languages was renamed the Kumamoto Institute of Foreign Languages and later it became Kumamoto Junior College under Morio Takahashi, the first president of Kumamoto University of Commerce. In 1952 the campus was relocated to Oe and in 1954 Kumamoto University of Commerce was established as a four-year university.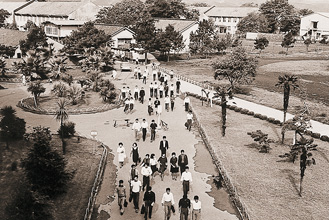 1966〜
The university grew at an unprecedented speed.
Kumamoto University of Commerce increased in size with the establishment of the Institute of Social Welfare in 1966 and the Faculty of Economics, which was established in the following year. Since 1984, the education system and the educational environment have been further improved as the Department of Management was established within the Faculty of Commerce, the Department of International Economics in the Faculty of Economics and the Graduate School was established.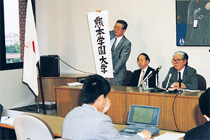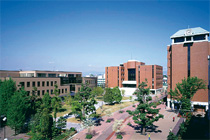 1994〜
The birth of KGU, the beginning of a new tradition
In 1994, the Faculty of Foreign Languages and the Faculty of Social Welfare were established, and Kumamoto University of Commerce and Kumamoto Junior College were merged and renamed Kumamoto Gakuen University. In the following years, the graduate school was further developed and new departments were established. The first Graduate School of Accountancy in Kyushu was established in 2009. As one of the leading social science universities in western Japan, KGU continues to produce highly knowledgeable and creatively-minded graduates with the skills to meet the demands of 21st century society.