Master's Program of Social Welfare
This program's goals and aims are based on theoretical studies in social security and welfare together with practical experience concerning individuals and the society in areas such as welfare for the elderly, disabled and children. These abilities are needed for professionals in order to succeed in the 21st century and are essential for those who wish to proceed with an academic career. The many career options for graduates include working as a professional and continuing research in a doctoral program.
Master's Program of Social Welfare
and Environment
In this new field of social welfare, research on policies and practices concerning social environment, pollution and environmental damage are the main issues of the masters program in welfare and environment. In cooperation with the Research Center for Minamata studies at KGU, specialized research in the field of Minamata studies is conducted. Students aim to create an environment where the well-being of all citizens can be realized in terms of welfare and environment. Research fields include one's own living environment, relationships between individuals, regional societies, societal systems, and the environment and ecology. The distinguishing features of this program are a combination of classroom lectures and fieldwork both in Japan and abroad.
Doctoral Program of Social Welfare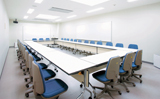 The knowledge and academic abilities acquired during the master's program are further advanced by theoretical and practical research conducted in the Doctoral Program of Social Welfare. The program aims at the development of professionals equipped with a high level of specialized knowledge and research abilities, who are ready to play active roles in the field of regional social welfare. Therefore, research is conducted on the basis of a curriculum which consists of theory and policy as well as of field studies. Research focuses on issues concerning three major fields in social welfare: the theory and history of social welfare studies, social welfare systems focusing on protection of rights and well being, and creative research in environmental welfare. Further, KGU is the only university in Japan which carries out research on Minamata studies, which continues from the Social Welfare and Environment master program to the Social Welfare doctoral program, and goes beyond the framework of the Minamata disease incident as a negative legacy of mankind. Minamata studies strives for recognition as an important field of research w hich aims to realize community reconstruction in regions which have experienced environmental pollution. This program has been developed in cooperation with the Research Center for Minamata Studies.