Master's Program of Area-based Cultural Studies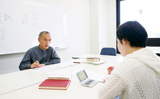 The Master's Program of Area-based Cultural Studies aims at the education of professionals equipped with knowledge and problem-solving abilities with respect to language, culture, and international exchange, which meets the demands of society in terms of internationalization and globalization from a intercultural point of view.

The three major fields in this program are studies in Japanese culture, studies in East Asian cultures, and studies of western cultures. In each field, research is conducted from an international perspective on language, culture, and international exchange.

The curriculum enables students to advance their skills and knowledge in both depth and breadth, and offers opportunities to perform academic research that meets practical regional needs. The program is open not only to college graduates, but also to foreign students and adult learners. Due to the fact that lectures can be offered both in daytime and evening, the school offers an ideal environment for working people. One of our goals is to provide the opportunity for in-service teachers who already have junior high and high school level teaching certificates to upgrade to advanced teaching licenses in English, Chinese and Korean for junior high and high school.
Doctoral Program of Area-based Cultural Studies
Based on the knowledge and abilities acquired in the masters program, the doctoral program in area-based cultural studies promotes cross-cultural understanding through further in-depth research in world cultures. The program provides students with the knowledge necessary to become professionals and academic researchers with a global outlook and the ability to contribute to the international society.

The program includes three major fields: Japanese cultural studies, East Asian cultural studies, and Western cultural studies. In Japanese cultural studies, a deep knowledge of Japanese culture is gained through study of classical Japanese literature. East Asian cultural studies focuses in depth on the languages and cultures of Korea and China, which are both closely related to Japan. Western cultural studies covers studies in Western languages and linguistics, as well as American and English literature and English education.

The curriculum provides students with advanced language skills as well as academic knowledge and practical research abilities. We gladly accept and support graduates from masters programs everywhere, irrespective of age or nationality. This program is designed to meet the expectations of every individual who aims to become an academic researcher or professional in cultural-related fields.