Master's Program of Economics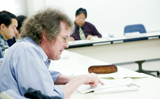 This program aims at the education of professionals with a high degree of theoretical and international knowledge as well as practical ability who can play leading roles in regional economies.

The curriculum covers various fields including economic theory, economic history, international issues, public finance and monetary economics, and public finance and regional studies, to promote in-depth scientific attainment with a global outlook and a high degree of specialized knowledge.

The study of foreign economic literature as a compulsory subject emphasizes the necessity of language abilities in response to a globalized world. Courses in related studies such as social and economic problems were established in consideration of needs of tax accountant and civil service aspirants. Graduates of this program can also continue their studies in the KGU doctoral program.
Doctoral Program of Economics
The 21st century demands professionals equipped with a high degree of specialized academic knowledge and ability to judge economic trends from a global perspective. The doctoral program is composed of two specializations designed in order to improve academic research skills: one in economic theory and history, and the other in regional studies and development policy.

The doctoral course offers superior conditions for graduate students and the academic environment stimulates enthusiasm to perform quality research. A diverse research background is provided through courses in macro- and micro-economics, which form the basis of economic theory; history of economics, which focuses on economic theory and ideology; regional development policy, which focuses on promotion of regional industrial development; agricultural policy, with emphasis on environmental agricultural policy in the EU; local public finance, where theories and actual conditions of decentralization are analyzed from different angles, based on data from international organizations and independent overseas field surveys; and theory of economic development, which focuses on recent developmental problems.